Following Government approval and clear operating guidelines, the Duchess of Cornwall Inn team will be delighted to welcome you back from Thursday 9 July.
You will need to book in advance, either online or by telephone, for all food and drink visits. Initially the Inn will be operating six days a week:
11am to 11pm Tuesday to Saturday
12 noon to 6pm on Sundays
Food service times will be
12 noon to 9pm Tuesday to Saturday
12 noon to 4pm on Sundays
Please note that guest bedrooms will remain closed for now, but will be re-opened in due course.
Some necessary changes have been made to keep you and their team safe, whilst ensuring the very highest levels of hospitality can be delivered. To book and for more details of what to expect when you visit, please click here.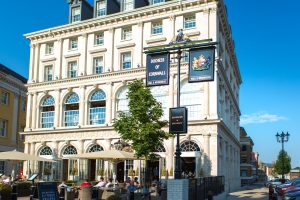 Excited – why not book a table today? Hall and Woodhouse look forward to seeing you back!